Not quite an adventure.

---

This article is a stub. Flapjack wouldn't like it at all. You can help by expanding it.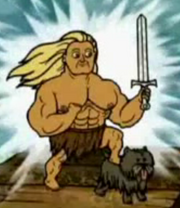 "Adventurer" is the sacred title Flapjack, K'nuckles, Eight-Armed Willy, and The Businessman seek. This is somewhat odd because, given their misadventures, Flapjack and K'nuckles are already adventurers, although they leave much to be desired in terms of their "adventuring" skills.
Ad blocker interference detected!
Wikia is a free-to-use site that makes money from advertising. We have a modified experience for viewers using ad blockers

Wikia is not accessible if you've made further modifications. Remove the custom ad blocker rule(s) and the page will load as expected.