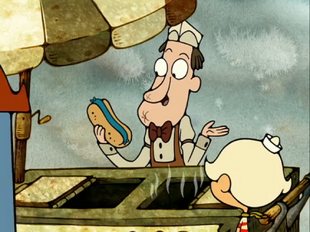 The Candy Coated Hot Dog is a food item that was featured in the episode Fancy Pants .
Description
The Candy Coated Hot Dog is composed of a cooked sausage that's then dipped in a special candy coating and placed into a specially made bun. The hot dog also comes in a smaller, sample size.
The candy coating is strong enough to eliminate any actual taste of the meat it covers. The coating is also claimed to be "high grade" by the vender and is able to fatten up those who consume it extremely quick. The Candy Coated Hot Dog comes in a variety of colors which include blue, green, red, violet, orange and yellow.
Despite the product being sold at a price of ten gold coins each, the candy coating itself is actually free to consume, so long as the consumer eats a rather large quantity of the hot dogs in one sitting. The reason for this is to promote the product, as claimed by the vendor.
Usage in Fancy Pants
In the episode they are featured in, K'nuckles uses the Candy Coated Hot Dog as a way to fatten up so he would be able to fit in a pair of massive fancy pants he wishes to acquire. However, the hot dogs prove to be his undoing, as later on the large amount of Candy Coated Hot Dogs he consumed caused him to explode, sending the hot dogs flying in all directions.
Ad blocker interference detected!
Wikia is a free-to-use site that makes money from advertising. We have a modified experience for viewers using ad blockers

Wikia is not accessible if you've made further modifications. Remove the custom ad blocker rule(s) and the page will load as expected.