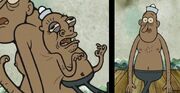 Dashing Danny
is a weird little man who lives on the back of another man (they are basically attached). He is very upset in "
Revenge
" when he realizes that he's hideous, due to
Flapjack
polishing the ship so all the sailors could see their reflections. His only line in that episode is, "I'm hideous". Danny also appears In the episode, "
100 Percensus
" where he gets offended that he wasn't considered a person by the
Census Pirates
, aka Senseless Pirates, and says, "Looks like you forgot all about Dashing Danny!"
Ad blocker interference detected!
Wikia is a free-to-use site that makes money from advertising. We have a modified experience for viewers using ad blockers

Wikia is not accessible if you've made further modifications. Remove the custom ad blocker rule(s) and the page will load as expected.