Maybe you're looking for Footburn ?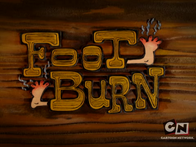 Footburn
is a severe and often devastating disease in
Stormalong Harbor
. It is primarily caused by overexposure to the UV rays of the sun. If not treated quickly, it will cause an infected person's feet to literally rot off. Although it is technically an
epidermal disease
caused by the sun's rays, it actually works and looks more like
Gangrene
. The only known cure is
Whale Kisses
brand ointment, which costs ninety nine pence. Once rubbed on Footburn infected feet, it removes all symptoms on contact.
Like other Stormalong diseases, footburn, has a basis in real world applications it can be representational of modern day three-degree burns (causes bleeding and rotting)
Ad blocker interference detected!
Wikia is a free-to-use site that makes money from advertising. We have a modified experience for viewers using ad blockers

Wikia is not accessible if you've made further modifications. Remove the custom ad blocker rule(s) and the page will load as expected.