FusionFall was an open world MMO by Cartoon Network. The game server's were closed in August 23,2013.
However, the game has since been revived under the name FusionFall Retro by a group of fans:
https://www.fusionfallretro.com/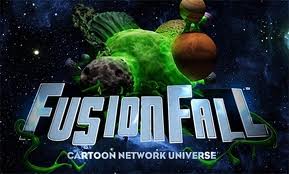 Currently, Flapjack, the blood gnats, and candy wife are the only characters that have appeared in Fusionfall. Candy wife and Flapjack first appeared for the birthday bash. Later, at the the valentines event, flapjack appeared along with freddy fishlegs to round up three blood gnat queens. Freddy fishlegs also appeared at the birthday bash, but is not seen in the show, however, a giant pair of his legs belong to the sea monster in "Sea Legs". For the Saint Patrick's day event, flapjack moves to leaky lake looking for bubbie, while freddy fishlegs takes his place near the park n' flush.
Characters Represented
Flapjack, candy wife, the blood gnats, and freddy fishlegs are the only npcs that have anything to do with "Flapjack." However, at the valentines event, Flapjack is seen next to a barrel that looks like K'nuckles, possibly meaning K'nuckles will appear for the expansion. At the saint patricks day event, it is confirmed by Flapjack that k'nuckles is somewhere on the continent, looking for Bubbie. Bubbie, however, may have been captured like Megas was. As flapjack said at the birthday bash that Bubbie had a stomach-ache. Which could meen Bubbie swallowed seawater infected with fusion matter. But this could also mean Bubbie could appear. Whoosh the mechanical whale appears at the Saint Patricks day event, meaning that either/both of the inventor twins could appear. Peppermint Larry may also appear with candy wife.
Other Notes
There is a K'nuckles Tee and a Flapjack bubblehead. In one of the newer level 27 missions Stormalong Harbor is mentioned. The Flapjack bubblehead was released later in the game as a prize in the High Score Weekends. Whoosh,The Mechanical Whale, is now a transport between Orchid Bay and Monkey Foothills.The barrel flapjack was standing next to at the valentines event was supposedly the barrel he floated away in as fuse may have already taken or destroyed some/all of Stormalong. Candy wife is said to be friends with Fred Fred Burger. a panfake helmet was available at the birthday bash which represents the Flapjack puppet. Larry had that was called pancake.
It is unknown what happened to Stormalong Harbor, but is is likely that it was destroyed.  A Stormalong anchor and well can be found in the wilds near Flapjack.
Ad blocker interference detected!
Wikia is a free-to-use site that makes money from advertising. We have a modified experience for viewers using ad blockers

Wikia is not accessible if you've made further modifications. Remove the custom ad blocker rule(s) and the page will load as expected.