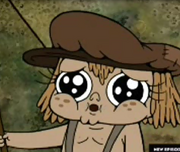 The Pool Hall Kid is a one time character, only shown in "Just One Kiss." K'nuckles plays him, and loses most rounds, but wins back his stuff after Flapjack plays the kid. K'nuckles calls him "Small Fry."
Ad blocker interference detected!
Wikia is a free-to-use site that makes money from advertising. We have a modified experience for viewers using ad blockers

Wikia is not accessible if you've made further modifications. Remove the custom ad blocker rule(s) and the page will load as expected.