Punsy McKale is a famous comedian from Stormalong Harbor whose comedic acts mainly consist of puns. He wears a stereotypical old styled "Donald Duck" sailor outfit. He has a strange perma-smile face that resemble's more of a caricature of a real person instead of a typical cartoon character.
He and Peppermint Larry went head-to-head in The Stormalong Pun-Off, in which Punsy showed a dark side when Flapjack got the audience to laugh 'at' him. He ruthlessly embarrassed Larry to the point of tears and made color ryhmes to disorient Flapjack, before throwing a sandwich at him. He was however defeated by Flapjack and K'nuckles' unintentional slapstick act, which the people of Stormalong thought was funnier than his puns and beating up a kid!!! After his dismissal, he soon became friends with his rival, Peppermint Larry, the two united by the same fate.
His name (and perhaps appearance) are likely modeled after Patrick McHale, one of the people working on the show.
As mentioned earlier, he is always smiling derisively. Even when he's sad and crying or angry. It could refer to his profession as an insult pun comedian and short of antagonists. He is hypocrytical in that while he loves insulting people he becomes angry when someone makes jokes about him.
In the end of Pun Times Punsy and Larry becoming friends and Punsy becoming Good/Protagonist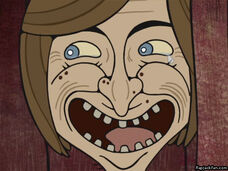 Puns/Quotes
Edit
"Is that sup-poster(suppose to) scare me?"
"Whats the matter Peppermint Larry, cat gotcha tongue? Or are ya chicken? I'll missed those foul 'yolks'(jokes) of yours, but I'll get 'rooster'(used to) it.
Well that was a real turkey. Good 'cluck'(luck) at the 'Pun-off'. If I were you I'd stay in my shell. 'Hatch'(catch) ya later. Now if you'll excuse me I need to-- 'hi, tail'(hightail)-- it outta here.
Would ya settle for 1 1/2?
Well if I take two, will you 'take five'?