Not quite an adventure.

---

This article is a stub. Flapjack wouldn't like it at all. You can help by expanding it.

Slippery Pete is a minor character in the series, The Marvelous Misadventures of Flapjack. He is the local massage-therapist in Stormalong Harbor. 
Background
According to the episode "Eye Sea You", Slippery Pete often gets a client whom he is afraid to touch (they may be gross, fat, disease-ridden, ugly, etc.), As a result, he uses his pete octopus to massage the customer instead. 
Gallery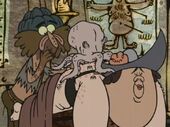 Ad blocker interference detected!
Wikia is a free-to-use site that makes money from advertising. We have a modified experience for viewers using ad blockers

Wikia is not accessible if you've made further modifications. Remove the custom ad blocker rule(s) and the page will load as expected.