Steve Little

No Title

No information
Steve Little is an American actor. He is the voice of
Doctor Barber
,
Slippery Pete
, and
Lolly Poopdeck
on Flapjack. He also did voice work for "Camp Lazlo", another animated show on
Cartoon Network
. He plays Stevie Janowski on "Eastbound and Down" and appeared as a crazy naked man on Comedy Central's "Reno 911'.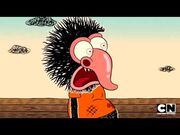 Story
Season 1
Season 2
Writed/Storyboard
Season 1
Ad blocker interference detected!
Wikia is a free-to-use site that makes money from advertising. We have a modified experience for viewers using ad blockers

Wikia is not accessible if you've made further modifications. Remove the custom ad blocker rule(s) and the page will load as expected.