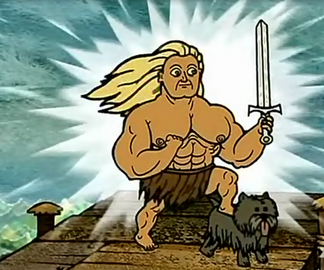 The Adventurer is a minor character in the series, The Marvelous Misadventures of Flapjack. He is an adventurer who is handsome, strong, and bold. He made his debut in the episode "Who's That Man in the Mirror?".
Background
After being introduced to Flapjack, he wanted to sail the seas with him. However, Flapjack declined the offer, causing him to become extremely upset. At the end of the episode, it is shown that he's married to the owner of the orphanage.
Trivia
He often enjoys getting a portrait painted of him in his honor.
The The Businessman wore a costume similar to the Adventurer in the episode, "Kid Nickels."
He can do up to 500 push-ups at a time.
Ad blocker interference detected!
Wikia is a free-to-use site that makes money from advertising. We have a modified experience for viewers using ad blockers

Wikia is not accessible if you've made further modifications. Remove the custom ad blocker rule(s) and the page will load as expected.