| | |
| --- | --- |
| | Not quite an adventure. |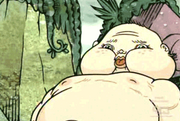 The Giant Baby is a minor character in the series, The Marvelous Misadventures of Flapjack. He is a very large baby that lives on Mechanical Genie Island.
After K'nuckles and Flapjack were stranded on the island, he led them both to think they were being held hostage by his toy Mechanical Genie. He accidentally revealed himself at the end of the episode, when K'nuckles destroyed the Mechanical genie.