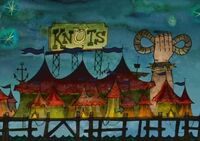 The Knot Festival is a annual event held in Stormalong Harbor that is themed around rope knots. It is featured in the episode Knot Funny.
Description
The Knot Festival consists of various booths and perfomances, mainly themed around various rope knots of all kinds. Features include live perfomances, as well as numerous carnival games, most of which revolve around the usage of rope knots in some way.
Despite the primary theme of rope knots throughout the festival, not all attractions offered revolve around knots, such as Dr. Barber's first aid tent, and booths that offer Cursing and Singing.
Flapjack and K'nuckles partake in the events at the Knot Festival in order to cure Flapjack of the Curse of Mute Mike that K'nuckles had placed upon him. The majority of their time at the Knot Festival takes place at nighttime.
Trivia