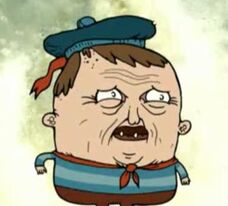 This ugly person only appeared in Oh Brother, wherein Flapjack tells him to grow up in a (shockingly) MATURE way. He says "Grow up? I'm 38 years old." At first glance he looks like a cute kid with a high-voice, but in reality he's really a disturbing, wrinkly, hideous and deep-voiced 38-year-old man. We only see him twice in that episode. First at Storm-Along Harbor. And then later seen again in Bubbie's mouth in a really disturbing way at the end of the episode. Who or what he is or where he came from is unknown.
Ad blocker interference detected!
Wikia is a free-to-use site that makes money from advertising. We have a modified experience for viewers using ad blockers

Wikia is not accessible if you've made further modifications. Remove the custom ad blocker rule(s) and the page will load as expected.