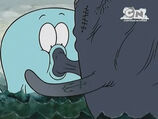 Whale Times

Episode / Production #

14/ 119a

Air date

Feb 12, 2009

Writers

Rating

Y7 -FV
Flapjack gives Bubbie a shiny garbage necklace that attracts the eye of many around Stormalong Harbor, including a much larger, ugly whale named Harvey. Harvey wants a kiss, and uses the moment to suck Flapjack and Captain K'nuckles out from inside Bubbie. Inside Harvey, the duo see that Harvey gets around, having kidnapped many other adventurers & young sidekicks to work inside his factory on Laundry Island. Bubbie tracks them down after finding a pair of undie hearts that Flap had dropped in the ocean. She is afraid to confront the much larger Harvey until she hears Flap yelling in distress. She punches Harvey into the factory machines, which bleaches & shrinks him, then praises Flap for finally learning how to fold his own laundry.
Trivia
K'nuckles laughs Har,Har Tharsdie, which is a reference to a Cartoon Network block Har, Har Thursdays.
The part when K'nuckles explains to Flapjack why being nice is bad luck for him is a reference to the movie "The Curious Case of Benjamin Button" when an old man explains how he was struck by lightning seven times.
Bubbie has a toliet nearby her tounge.
Flapjack washing his laundry was later mentioned in Willy!, six months before that episode.
First time Bubbie threatens Flapjack with a spanking proving that she does indeed discipline him.
Ad blocker interference detected!
Wikia is a free-to-use site that makes money from advertising. We have a modified experience for viewers using ad blockers

Wikia is not accessible if you've made further modifications. Remove the custom ad blocker rule(s) and the page will load as expected.